One of the most popular benefits of Solid Surface is the seamless installation and design. Solid Surface's Seamless installation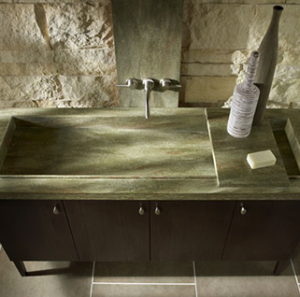 has benefits that range from hygiene to aesthetic style. It can also accommodate a larger range of options than other types of kitchen surfaces. A few of these highlights include:
Hygiene and health
From a hygienic perspective, the lack of cracks and seams mean the surface is easier to clean. Particles of food tend to get caught in the seams between slabs of granite or quartz. Solid Surface's no-seam installation prevents dirt and germs from accumulating on the countertop. This reduction in dirt and food particles can effectively prevent bacteria from growing in between the surface that could potentially make you and your family ill. The seamless benefits of Corian make it one of the best choices for food safety.
Contemporary design shapes
Rounded or smoothed edges can be cost-prohibitive when purchasing traditional stone countertops. The affordability and flexibility of Solid Surface give it a clear advantage when it comes to creating contemporary designs for a bathroom or kitchen. A kitchen island no longer has to be a boring square or rectangle shape. Irregular edges add a modern element to otherwise dull and lifeless countertops. Corian is an extremely moldable material that can fit whatever theme or shape a client can dream of.
Sink surfaces
As sink hardware becomes more customizable, it only makes sense that the materials used to make them have to be more versatile. Solid Surface is a becoming a very popular choice for sink basin surfaces. First and foremost, Corian was built for long-lasting durability and resilience. Seamless installation can allow full integration of the sink with the countertop it is connected to. This ultra-chic "infinity" styling is becoming more popular among customers who have an appreciation for modern design features.
Continuous colors
No matter what the style or color-theme of your room, you can find a Corian color to match. From traditional neutrals to more bold choices like red or blue, Solid Surface can accommodate any level of customization. This can be helpful when remodeling or refurbishing an outdated kitchen or bathroom. Another oft-cited benefit of Solid Surface's seamless installation is that there is no color variance as there often is with natural stone. When placing two slabs of granite next to one another, they can often display two completely different color and pattern variants due to the changeable nature of stone. The seamlessness of Corian truly has the advantage when it comes to creating a unified look in any room.
Seamless installation provides Solid Surface with a competitive edge when it comes to common kitchen and bathroom surfaces. The versatility and modification options are what sets seamless countertops and sinks apart.