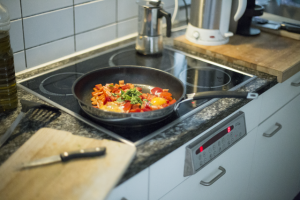 Corian and granite are both premium countertop materials, and both have a lot of advantages. Once you've narrowed your countertop search down to one of these, there are a few things that you need to take into consideration.
What Is Corian?
Corian is a brand name for DuPont's flagship solid surface countertop material. Its man made from 33% binding resins, and 66% minerals. It was first developed in 1967.
What Is Granite?
Granite is a real stone that has been quarried, sliced into slabs, honed and polished. It's a solid stone, with no additional materials. It's not usually associated with any brand.
What to Consider
Cost
The costs of both Corian and granite are very similar. They are usually around $40 – $65 per square foot. If your find granite at a cheaper cost then it isn't likely to be slab granite, but tile granite.
Appearance
Granite has a natural stone look, as that is exactly what it is. No two pieces are identical, and it has a mottled, bold colouring. While that look could be too much for some decorating schemes, but it does hide dirt, crumbs, and smears well.
Corian looks more like high quality plastic. It has a soft colour and doesn't have the shine of a laminate countertop.
Resale Value
Granite countertops does increase the potential sale amount of a house. Slab granite gives a higher resale value, but tile granite can also increase the resale.
Corian is a well-known brand name, so it can also add value. Although in both these cases, buyers may or may not appreciate your choice of materials and colour.
Maintenance and Durability
Granite needs to be sealed every year, or every two years. This reduces the risk of staining. Corian never needs to be sealed, but it can be stained.
Granite can suffer etching from acidic materials, like lemon juice. Corian doesn't have the same vulnerabilities.
Granite is heat resistant, and you can set a hot pan directly onto it. Corian can be scorched by heat, so needs a protective surface before you set anything extremely hot onto it.
Granite is difficult to scratch or damage. Corian can be scratched, but some scratches and blemishes can be buffed out.
Both materials are nonporous, easy to keep clean, and are hygienic.
Installation
Both surfaces need to be installed by a professional. It is possible to self-install Corian, but it's not recommended.
Corian can be cut with a circular saw, and cut-outs can be made with a router. The seaming materials for a Corian install are matched to the colour of the top, so they disappear completely. Granite seals may have a visible seam due to the potential colour variation in natural stone.