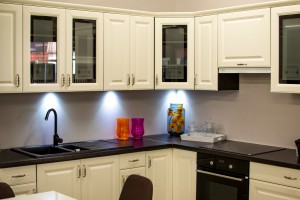 Solid Surface's flexible designs give you a lot of opportunity to customize your kitchen or bathroom. That's why we've put together a collection of five aesthetics you can successfully create in your home using Corian. Let's take a look!
Dark and Modern
If you like to keep your space looking sleek and modern, dark countertops are a great design choice! Dark surfaces function as an anchoring point for your entire room. Be it your kitchen, your bathroom, or a work space with a countertop, having a touch of darkness will make it look much more serious. Pairing something like black countertops with some lighter grey or white cupboards will give the room a sleek, modern appearance.
Day At the Ocean
A popular aesthetic choice is something more beachy. Watery blue, sandy tan, and cloudy white all go great together to make your kitchen look like it belongs in a beach house! Pairing white cabinets with light brown counters will look great! Blue accents will just add to the effect. Corian doesn't just offer smooth colors. You can even get a design that looks textured. That means your counters can give off the impression that they've been made with sand. A speckled pattern will give your kitchen some definite character.
Sweet Pastel
Pastel decor has become a trend in recent years. As something of a throwback to the sixties, it's no wonder a lot of people don't find it particularly attractive, but to those who do, Corian will be a life saver!
You can get Corian in almost any color imaginable, and that includes those soft, pastel colors some people are after. If you want your bathroom or kitchen to look like it's made out of cotton candy, soft, blue or pink counters might be what you're looking for! Corian also sells sinks made of the same material, so you don't even have to sacrifice your color scheme there.
Country Kitchen
If you're hoping to have a warm aesthetic to your kitchen, dark browns will be your friend! Brown is a warm and comforting color. It alludes to wooden furniture and making cookies with grandma. Having brown countertops can really tie together a more country-styled kitchen. Fortunately, Solid Surface doesn't come with the drawbacks real wood does! Corian Solid Surface is hardier and more resilient than wood. It can take heat and impact like a champ without splintering or denting and, unlike wood, there's absolutely no chance of it rotting when wet.
Red Accent
It's very popular these days to go after that elusive red kitchen. Nearly every kitchen appliance comes in red to make this possible. Whether you pair the red with black, white, or another color, Corian can help tie it all together. Red countertops might be too much, but white or black countertops with a marble pattern would match your appliances perfectly. It will make their vibrant colors stand out! Why not just get marble or granite countertops? They're more brittle than Corian and, once broken, can't be repaired without a costly replacement.