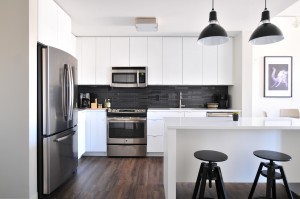 Everyone has different tastes for their home interior and every style requires a little something different. If the kitchen you're looking for is sleek and clean in appearance, Solid Surface can help make it a reality. Our variety of designs have a little something for everyone.
Modern Designs
When many people think of modern interiors, they think of harsh, black and white design. This gray-scale interior, however, is actually contemporary. True modern interiors are what was viewed as forward-thinking in the second half of the twentieth century. While these two design styles have things in common, modern interiors feature earthier tones. This can mean using wood for shelving and implementing colors like burnt orange or turquoise as an accent.
If you want a truly modern kitchen, our selection of Solid Surface colors is here to help. We offer solid black and white as well as colors that fit with the modern theme. Oranges and blues and greens will give a touch of color to your modern kitchen. Due to our creation process, we're also able to create curved counters. Curved edges are a common part of modern design. Choosing countertops with a curve to them will really help the flow and fluidity of your interior.
Contemporary Designs
If you're looking to bring a touch of contemporary design to your kitchen, Solid Surface has just what you need. While patterns featuring natural stone are an option, contemporary kitchens also do well with plain designs. Outfitting your counters with solid white or black countertops is sure to make your kitchen look simple and sleek. The lack of pattern will make spotting messes a breeze and leave your kitchen looking pristine.
White or black countertops in a contemporary kitchen make a great canvas for a bold piece of decor. Bright red flowers or a golden statuette would make wonderful contrast pieces. No matter the decor style, solid black and white are a great backdrop.
Minimalist Designs
While modern and contemporary designs are both considered minimal, minimalism in a design type all its own. Minimalism brings together light, neutral tones as well as natural fixtures such as plants, stone, and fibers. Minimalism is meant to give an impression of simplicity, cleanliness, and openness.
With a minimalist kitchen, we recommend white stone designs for the countertops. Solid Surface offers a number of designs that resemble natural stone. These would fit in very well with a minimalist interior. The white base makes them light and open feeling while the natural stone design brings some texture and contrast.
Order Today
No matter what kind of sleek design you're going for in your kitchen, Solid Surface has what you need. Contact us if you'd like to set up an order or are looking for answers to your questions. We'll be glad to help you find what you need and make it a reality!