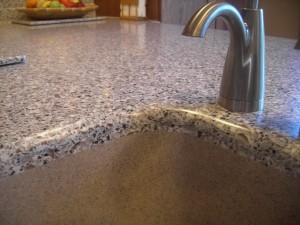 Kitchens are active places. Whether you are cooking a large family meal or you are helping with the kids with a project, kitchens are where the action happens. But accidents and damage can also be a negative side effect of all that action. That's why people need kitchens that are durable and strong, in order to withstand anything life can throw at them. Some people look at laminate flooring, while others opt for stainless steel appliances. But the countertops should never be overlooked. Solid Surface has all the benefits of durability and strength that make it a great choice for any kitchen, or even a bathroom.
Solid Surface was built to be tough because families often look at countertops as an investment that they expect to be long-lasting. When DuPont first developed Corian, it had several types of safety in mind. The first type of safety being from heat damage. Solid Surface has the ability to resist damage due to incidental heat. However, the material does have its limits when it comes to heat exposure. The material does indeed resist heat, but it is not recommended to constantly put hot pots, pans, or plates into direct contact with Corian countertops. Occasional heated contact will not create lasting damage to Solid Surface, but regular exposure to heat on the countertop could create burns or warping after a while. All you have to do is make sure that something hot doesn't rest on the countertop for too long.
The next type of strength that DuPont wanted to ensure with Corian was food and health safety. They made this happen by designing Solid Surface to be non-porous and seamless. This may not seem important at first glance but is actually vital to keeping your family healthy. Non-porous surfaces do not have any grooves or cavities where foods, liquids, and other substances might stick. If they were to fall in between the cracks, mold and mildew could quickly fester in those spaces. The same goes with seams that come standard with natural stone countertops like granite or quartz. The seams between slabs are dangerous when it comes to harmful bacterial growth. Solid Surface eliminates this problem by making their product seam-free without any holes or cracks. That way, when you clean your countertop you can have the peace of mind that it is completely clean.
The final way that Corian demonstrates its strength is through other types of damages that can occur in an active kitchen. Sometimes someone can slam a large pan down, or accidentally makes contact with a knife. All of that is protected with Solid Surface, which is built to be impact-resistant. It would take a lot of force to cause damage to a Solid Surface countertop. So you don't have to be afraid of small dings and scratches. The best part is that even when the unthinkable happens, and the surface is damaged, all damage can be seamlessly and efficiently repaired for a low price.
DuPont had families in mind when it creates Solid Surface. It made the product stronger and smarter than most available options. That way, people could spend more time enjoying their time in the kitchen, and less time worrying.