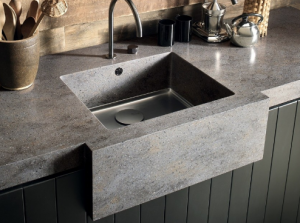 The kitchen is perhaps the most crucial room in the house.  That's because when we're buying we go straight to the kitchen to see if it fits our lifestyle and needs.  How big is it? Are the appliances up to date? Is there enough storage for my needs. What's the quality of the countertops?
Aside from updated appliances, the countertops are going to rise to the top of the lasting impressions people on the market for a new home are going to remember when thinking back to the homes they are considering.  That's because countertops are so varied in quality and cost that they leave a lasting impression that can be easily identified. Carpets, windows, and doors look more or less the same from house to house but countertops always have a unique presence.  A dated countertop is a sure way to leave a bad impression on prospective buyers.
What makes a countertop dated?
Old color schemes, stains, heat marks, knicks, and any other blemishes can't be covered up.  For those considering you will be spending a lot of time with these surfaces and those looking to attract buyers considering your countertops is worth the investment to get things right.  Get a good look at the patterns offered by Corian countertops because they sit right at a working level.
Considering your countertop near the stove and boiling liquids, finding a material that is heat-resistant up to 100 Celsius should be a priority.  Corian does that. A countertop resistant to knicks and cuts of knives that have slipped will be easily handled by marble, but for a much cheaper price Corian counters can handle even the most determined attacks for kitchen tools.
Corian is non-porous and leaves no place for dirt and stains to hide.  Any mess can be easily removed and with minimal care can be kept looking as new and pristine as the day they were installed.  Corian can be fabricated in an array of colors and patterns and consistently made to look uniform throughout the surface and through your house wherever you choose to apply it.
Long lasting Corian countertops are timeless will continue to be used in homes for years as an efficient and versatile surface.  The benefits of Corian are nearly endless!