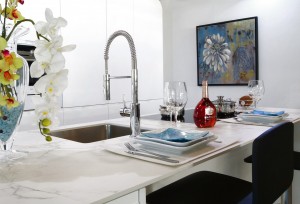 There's a reason solid surfaces are the surface of choice for a wide range of industries, from medical clinics to food counters.  That's because it's one of the healthiest surfaces around.  If you're dealing with situations where bacteria or disease can spread, installing solid surface is one of the best lines of defense you can have.  The same goes for if you're just installing it in your own home – solid surface can help keep you and your family healthier.
Solid surfaces are non-porous, unlike to natural stone.  That means that not only will they not absorb stains, but they also don't provide the cracks and crevasses for bacteria to lurk and multiply.  No seams means that your countertops are easier to clean, and clean thoroughly.
Our solid surfaces are NSF/ANSI Standard 51 certified, meaning they're safe for food contact for all types of food.  They're also Greenguard NSF Indoor Air Quality certified, meaning that they don't degrade the quality of indoor air.  Both of these mean that you don't have to worry about solid surface introducing potentially harmful contaminants into your food or air – it's a safe, healthy surface.
Your kitchen can become a breeding ground for bacteria and regular, old-fashioned dirt.  Not only does it become a collecting ground for debris from the human body itself, but food and cooking oils can accumulate on your countertops, appliances and surfaces over time.  If you have moldy food, it can release spores into the air.  Raw, uncooked foods can expose your kitchen to harmful bacteria.  The list goes on.
That's why it's important to have a bacteria-resistant, easy to clean surface for your countertops.  Solid surface is easy to clean, resistant to all sorts of potentially harmful substances and will generally help keep you and your room in tip-top condition.