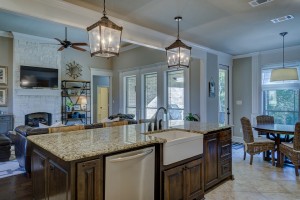 Solid surface is a fantastic material.  Nonporous, durable and available in a wide variety of colors and styles, there's very little solid surface can't do for you.
But what exactly is solid surface?  And how is it made?
Solid surface is made from acrylic and polyester resins, mixed with various pigments (to provide a wide range of colors and styles) and bauxite filler (to keep everything bound together nicely).  The materials are mixed together and heated to temperatures exceeding 140 degrees, in order for the mixture to chemically cure.  Various companies will use various different temperatures and ratios for mixing to make their own patented combinations, but the basic concepts are the same.  Because it's made in one homogenous mixture, solid surface retains its color and pattern qualities throughout the entire material.
The solid surface is compressed into large sheets.  Unlike granite or marble, this allows a contractor or manufacturer to get the precise size and shape they need easily.  It can also be molded into the proper shape – perfect for getting just the right sized basins for sinks and things of that nature – but sheets are the most common form solid surface comes in.
Your contractor will take these sheets of solid surface, in your chosen color and style, and cut them to match the size and shape of your countertops.  Then, they will bind them together using a color-matched epoxy.  The pieces will be clamped close together, and then left to dry.  The contractor will then sand off the excess epoxy and polish the area.  This creates the illusion of the countertop being one consistent piece rather than multiple pieces joined together; because solid surfaces have the same color and patterns all the way through, they can be sanded down to match without losing their aesthetic value.
Solidsurfacefabricator.ca can ensure you get the proper solid surface for your next major project.  Contact us today!