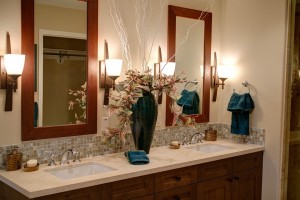 Solid surface is one of the best materials you can choose for your kitchen or bathroom sink.  It gives a great, modern look without a hefty price tag attached.  Corian has a great number of benefits overall, and three elements make it absolutely perfect for your next sink replacement.
Solid surface comes in a wide variety of styles and colors.  Most sink materials come in a small, limited range – the natural colors of marble, for example, or the silver of stainless steel.  Solid surface, however, can be designed and manufactured in a whole range of styles and colors.  That's a major benefit for designers of all shapes and sizes – no matter what color or design scheme you have in mind, solid surface can fit your needs to a T.  It is also easily shaped in a large variety of styles, so you're not limited to the standard forms and styles that classic materials give you.  It's a whole new range of customization possibilities.
Solid surface is seamless – that is to say, a solid surface sink can be integrated into your solid surface countertop perfectly.  The seamless joints look amazing, as your entire room ends up looking like one continuous piece, but seamless installation is about more than just aesthetics.  The lack of seams and cracks means that your surfaces are much easier to clean.  No cracks and crannies means no place for bacteria or mildew to grow and spread.  That's a more hygienic option than most natural surfaces.
Finally, solid surface is both durable and renewable.  Solid surface isn't as fragile or brittle as porcelain or ceramic, making it less likely to break and scratch.  It is somewhat more likely to scratch than those materials, but that's where solid surface's real benefits shine.  Any stains or scratches can be buffed or sanded right out – solid surface is continuous, meaning the color and pattern stays the same throughout the entire depth of the material.  That makes any repair a very easy task.
Consider solid surface for your next sink!  You won't be disappointed.