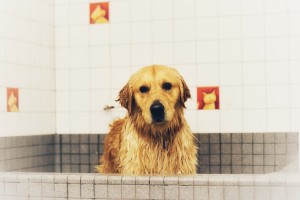 Everyone loves it when their bathroom looks up-to-date and attractive. And, these days, most people's idea of attractive, when it comes to showers, involves natural stone slabs or tiles. However, natural stone slabs and tiles are pretty expensive. Plus, they come with some other downsides as well. That's why Corian is pleased to inform you that there is a better alternative to tile in showers. What is this mystery material? It's none other than Solid Surface.
What is Solid Surface?
Solid Surface is a compound made for all manner of things. It's made by mixing together a powder with water, much like cement, and then waiting for it to dry and harden. Once the compound has hardened, it's one of the most durable and attractive materials available.
The thing that makes Solid Surface so unique is that its pattern goes straight through the entire material. That way, should part of the finished product receive more wear than the rest, it won't get ugly, worn patches.
Solid Surface is most commonly used for countertops because of its superior durability and its easy formation. However, it isn't limited to such a simple purpose. Solid Surface can be used for virtually anything requiring flat surfaces – shower walls included.
Superior to Stone
What is it that makes Solid Surface superior to stone? Well, there are a number of things.
Different pieces of Solid Surface can be connected to each other seamlessly. Where seams in stone will have to be filled with grout, pieces of Solid Surface are connected with more of the same. When two pieces of Solid Surface are put up against each other, the seam between them can be filled with more of the unhardened compound and then left to dry.
Once dry, it can be sanded down to present a completely flat and solid surface.
Solid Surface isn't as brittle. While stone is pretty hardy and can take a lot before breaking, Solid Surface can last even longer. After a number of years of use, stone slabs may start to crumble around the edges. Tiles are only as strong as the grout holding them in place. After a while, they'll begin to fall off. Solid Surface falls victim to neither of these.
Solid Surface is also cheaper than natural stone while still being available in natural stone patterns. Want your shower to look like it's lined in natural stone without breaking the bank? Solid Surface is the perfect alternative to tile.
Unique Designs
When you choose Solid Surface for your interior design features, you can be sure your interior is unique. Every design slightly different – not like the printed-on designs many other faux stone comes in. You can choose the right color and design for your shower with ease.
If you're interested in incorporating Corian Solid Surface into your bathroom, contact us. We look forward to helping you with your order, answering your questions, and aiding in your interior.