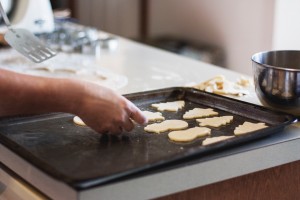 With the holiday season approaching, most families are sure to be doing some cooking. Whether you're preparing a banquet for guests to enjoy or just cooking for family, you'll need a great kitchen. Did you know that you can give your kitchen a huge upgrade without replacing everything in it? Just replacing outdated countertops can make a big difference. Therefore, this season, before it's time for holiday cooking, invest in some new Corian countertops.
What is Corian?
Corian is the company that makes and distributes Solid Surface. Solid Surface is an innovative and endlessly useful product. While it's most commonly used for countertops, since that's where the demand lies, it's used for all kinds of things. From protecting Pompeii archeological sites to producing bright, crafted signage, Solid Surface is up for anything.
Solid Surface Countertops
The reason why Solid Surface is relied on for so many unique projects is because it's strong, durable, and beautiful. That makes it ideal for something even as mundane as a countertop. However, if you order Solid Surface countertops, you may not think counters are so mundane anymore. That's because:
Solid Surface comes in a variety of colors. Don't limit yourself to the boring and overused options you can find in standard countertops. Solid Surface allows you to choose virtually any color you want. Match your interior in whatever way suits you best.
You can choose any unique shape you want. Because Solid Surface is shaped with thermoforming, that allows for some very cool design choices. Don't limit yourself to a boring, rectangular countertop. You can order curved edges, Solid Surface backsplashes, and even a rounded counter if you want.
Solid Surface Sinks can be ordered to match the color of your countertop. Don't let stainless steel detract from the beauty of your kitchen color palette. If you order a Solid Surface sink, it will be seamlessly attached to your counter, only serving to improve the appearance.
Make Cooking Easy
The difference a decent countertop can make for your kitchen is huge. Having enough space to collect ingredients and mixing bowls across the surface is important. Otherwise, you're spending more time taking things on and off the shelves and pausing to move stuff than you are with actual holiday cooking. Give yourself the space and ease you've been looking for by custom ordering Corian to suit your needs.
Clean Up Quick
Solid Surface isn't just cool because it's customizable; it's also easier to clean. Because Solid Surface is one solid piece with the pattern going all the way through, you don't have to worry about damaging it. Scrubbing won't wear away the design. Not to mention, it's smooth and seamless. Even countertops that are long or angled have no joining seam. That's because, when Solid Surface is installed, seams are filled with the same compound the counter is made of and then sanded down. That makes it a breeze to wipe down without worrying about crumbs getting caught or bacteria growing.
If you're interested in Solid Surface countertops to make holiday cooking easy this year, contact us. We're looking forward to hearing from you!