Want an extraordinary and unique coffee table in your living room? Solid Surface may just be the unlikely source for yours. While Solid Surface is most well known for our countertop creation, we also offer our services for a variety of other uses. Solid Surface as a material is incredibly flexible in its uses. That means great things for those of us with creative spirits because Corian is there for us as we seek to outfit our homes to reflect our personal styles. Here are some of the fantastic ways in which Solid Surface can become your future coffee table.
Thermoforming and Sculpting
Solid Surface is shaped for countertops by using a rectangular mould. However, that's not the extent of Solid Surface's shapeshifting capabilities. It can be bent, stretched, folded, layered, cut out, sculpted, and so much more. It has the strength strength of stone, the durability of metal, the color potential of plastic, and the shapeability of both clay and wood. The possibilities are literally endless.
Because you can do so many different things with Solid Surface, your options when it comes to a coffee table are wide open. Here are some of the ways you can produce a coffee table with our compound.
Layering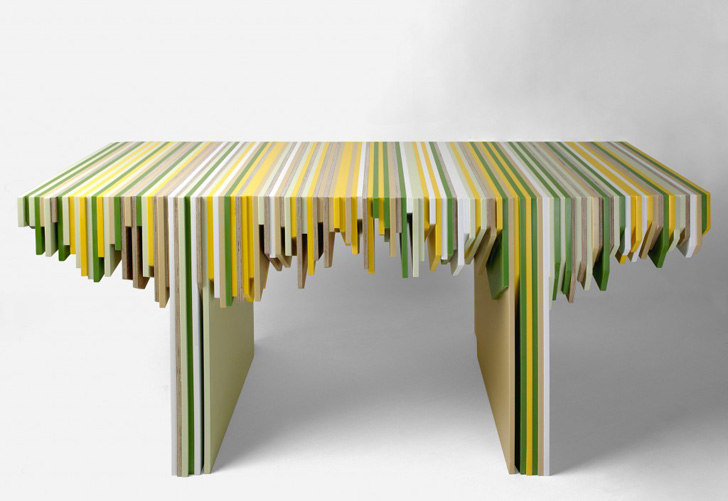 Because pieces of Solid Surface can be adhered to one and other using the liquid form of the same compound, you can actually make some really neat pieces by combining slabs. For instance, here's a table that was made by connecting thin sheets of solid surface. By stacking them flat and placing their edges at varying distances from each other, this uneven, raw-edge type design was made. All that's left from there is trimming all other sides of the combined stack down until all that's left is this. You can do this with any number of colors, creating a striped palette that's all your own.
Sculpting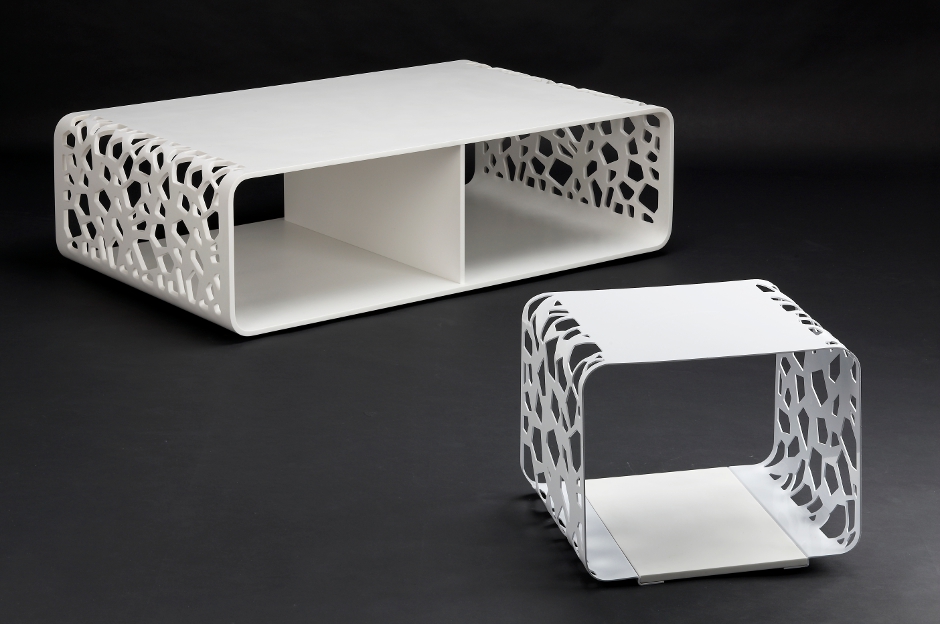 Here's a fantastic example of how Solid Surface can be sculpted and thermoformed (shaped with heat). These gorgeous and classy coffee tables were made by cutting out shaped from a slab of Solid Surface. The slab was then bent very carefully into this box shape. Both of these coffee tables are very simple in concept. However, even in their simple designs, they look hot enough to be centerpieces in an executive office. Imagine these in whatever color you like. Is black more your style? Your wish is our command.
Unique Designs
Chances are, if you can design it, we can make it. Any coffee table design that incorporates flat pieces, curves, cutouts, layering, or combining different colors, we can do it. Check out our furniture lookbook for more ideas and inspiration on what can be done with our incredibly versatile product. Give us a call if you want to see what we can do to make your home or office complete with a custom coffee table.