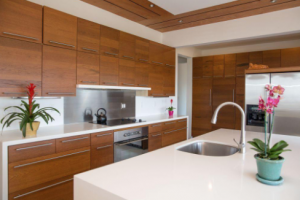 One might not think that a processed material such as Corian is an environmentally sourced material.  Think again. The details prove that Corian countertops are for the environment and you. You have a range of options when selecting countertops. All have their benefits and drawbacks.  
Countertop Materials and Challenges
Wood is not very durable. There is no accountability to the sustainably of how it's sourced. Marble sourced from strip mines are often sourced internationally. Transportation costs are exuberant and damaging.  Concrete uses harmful chemicals. Corian offers accountability through DuPont. Dupont ensures that certain measures are taken to achieve high quality. All the colors of Corian are green building material. Speak with your contractor about the benefits of Corian.
Benefits
Corian has a long stable life as a countertop material and off-gasses nearly zero VOCs.  The pigmentation process does not use heavy metals or carcinogens. You can rest assured that your countertops are as safe as a natural product such as wood.  Select from a variety of styles and colors. 
The Corian Terra Collection is made from recycled materials. Corian embraces a new standard for sustainable design. Corian exceeds all GreenGuard certification standards and qualifies towards LEED green certification.  Commercial contractors choose Corian to build their buildings up to environmentally conscious codes.
Good for the Environment, Good for You
Good for the environment and good for you, Corian performs well as a countertop for kitchens, backsplashes, vanities, and bathrooms alike.  Corian is DuPont's trademarked solid surface material. The countertops are nonporous. They offer little space for bacteria to hide. Mold and mildew have no place to hide. Corian countertops are a healthy and long-lasting choice for your next redesign.