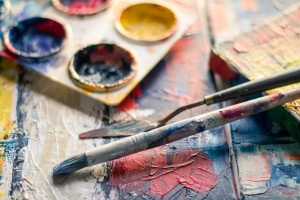 Solid Surface is most commonly used for kitchens and bathrooms, but what could such a flexible technology be useful for outside of these conventional rooms?
Work Spaces
While kitchen counters and office desks might benefit from Solid Surface, there are a great many other places that could use the same pick-me-up Corian offers. Solid Surface is incredibly strong and unlikely to chip during use. This makes it a great surface for use in a space that's worked with more harshly than even a kitchen counter.
Solid Surface would make a great addition to any workshop or garage where tools are regularly used. The variety in patterns and colors means it can match any environment's aesthetic. Any scratches that do occur can be easily buffed out. Who knows, maybe you'll have the tool for that just an arm's length away! When all of your work is done for the day, Solid Surface is easy to wipe clean. It's nonporous and seam free which means oil spills and sawdust can both be wiped off without a struggle.
Creative Environments
If you're an artist, Solid Surface would be a great addition to your studio. Your surface can be whatever color your creativity demands. It can also be any shape or size you need for those big projects you have piling up! It's smooth and easy to clean which makes it ideal for someone who's got paint, clay, or other mediums sticking to everything in sight.
Corian doesn't just make great counter tops and work tables. Solid Surface can also be made into a fantastic sink! With the same ease of cleaning and customization benefits a flat surface has, Corian's sinks won't be destroyed by all of the things an artist has the tendency to wash clean from their supplies.
Animal-Proof Surfaces
If you've got a space dedicated to your pets or you're the owner of smaller critters who live in a cage, you can benefit from Solid Surface. Whether you work with animals for a living or just like the company of your pets, you probably deal with a mess now and then. Owners of caged animals especially can benefit from Corian. Solid Surface is hypoallergenic, nontoxic, and chemically nonreactive. This means any pets you house on a Solid Surface base will be completely safe.
Two things that frequently ruin cage bases or other pet surfaces are scratches and stains. That won't be a problem with Solid Surface as you can buff out any scratches or stains easily! Animals housed in something with a Corian base will be easy to clean up after as well. The nonporous and seamless surface can be wiped down easily. Its durability also means it will last longer than the cheap plastics normally used in animal environments.
No matter what you need a surface for, Solid Surface is a great answer. Its flexibility in shape, color, and design is just the thing you need for that space you're working on fixing up!