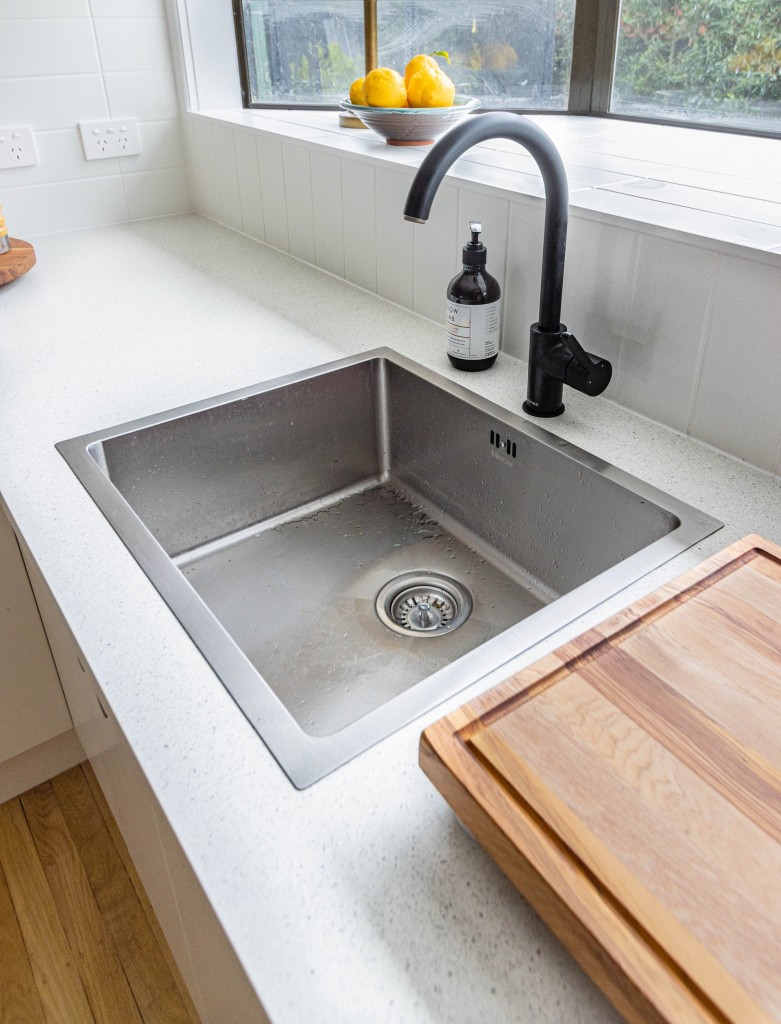 Solid Surface is one of the most versatile materials available for interior fixtures. While it's best known for use in making countertops, it can do more than that! One of the most popular secondary uses it has is for sinks. We're here to answer some of your questions regarding Solid Surface for use in drop-in kitchen sinks. Let's take a look at some of the things you've been wondering.
What Are the Benefits of Drop-In Kitchen Sinks?
Drop-in kitchen sinks are made with a rim that curves out from the top of the sink basin. Therefore, the sink can rest over the edge of the countertop's sink opening. When sealed properly, this keeps water from getting into the gap between sink and countertop. Plus, it makes it so you can clean every part of the sink with ease.
What Are the Benefits of a Solid Surface Sink?
Solid Surface sinks are a great addition to any kitchen due to their hardiness, longevity, and design customizability. Metal sinks will collect wear over years of use. Small scratches will accumulate and allow bacteria to grow more easily. Dents are hard or impossible to remove. Plus, the only come in a handful of colors – most commonly, stainless steel.
Solid Surface sinks, like all other Solid Surface products, can be sanded to remove scratches or minimize superficial damage. Cracks or other more serious damage can be easily patched with some of the liquid compound the item was made with. This means a sink that looks great and lasts virtually forever.
What Kinds of Solid Surface Sinks Are There?
Because Solid Surface starts as a liquid, it can be made into any kind of sink you want. We love using molds to make things, which is why countertops are one of our most popular products. However, we can create custom molds and use molded pieces to build more 3-dimensional products. A little cutting, sanding, and adhering makes any shape possible.
Can I Use a Solid Surface Drop-In Kitchen Sink with Other Countertops?
While we talk a lot about pairing Solid Surface countertops with Solid Surface sinks, we haven't addressed pairing our sinks with other types of countertops. Can it be done? Certainly!
Solid Surface most commonly makes undermount sinks because they go well with Solid Surface countertops. This design is easy to connect to the countertop with the liquid compound, used to make the sink. This allows a seamless connection, which is easy to clean and more hygienic than a sink with a seam. Using epoxy, you could get a similar result when paired with a stone countertop. 
However, if you have tile or laminate counters, undermount sinks may not work well, as these counters are wood under the surface. Instead, a drop-in kitchen sink is the better choice. A drop-in sink is suitable for any type of countertop and can be sealed with epoxy under the rim of the sink. However, keep in mind that, because of the weight of our sinks, you may need to install a wooden bar or two under the basin to help support it and prevent the rim from carrying too much of its weight.
Give us a call today to order a completely customizable sink of any size, shape, and color.