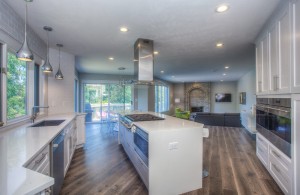 Finding the right components for your kitchen remodel can be difficult. If you have a specific style in mind for your cabinets and countertop, trying to find exactly what you want isn't easy. Or, maybe you're just looking around and aren't really sure what you want. Regardless, finding the right countertop has never been so easy with Solid Surface available. Whether you know what you're looking for or are designing your countertop around the cabinets you decide on, you can get what you need from Corian.
Match Interior Color
The first thing you need when buying countertops is for them to match the rest of your interior design. The most obvious way to do that is through color. Therefore, the nearly endless color possibilities of Solid Surface are an incredible asset. Choose whatever color you like and make your countertop the kitchen centerpiece it should be.
You don't have to limit yourself to just earthy tones like you do with most stone countertops. Consider rich blues in a kitchen filled with dark wood. Or, perhaps a desaturated orange would look rustic and earthy while still popping and making a statement. No matter how you prefer to outfit your counters, you can find what you need in Solid Surface.
Design Flexibility
Colors are important, but there's something even more difficult to find when perfecting your interior design. That is, finding components with design flexibility. Simple, rectangular cuts are right for many people, but you don't have to limit yourself if you don't want to.
Solid Surface is made through a process called thermoforming. That means it can be curved and manipulated after it's cured. This ability to alter its shape makes a huge amount of shapes possible. Want curved counters? You got it. Looking to do something a little more unique? Solid Surface can be used to bring your most curious interior design dreams to life.
Solid Surface is so flexible in design that it's used to craft colorful signage, room dividers, and even furniture. It has almost the same creative potential as plastic while being way sturdier, way longer-lasting, and way better for your home.
Durability
The thing that makes Solid Surface unmatched is that, through all of its customizability, it still remains an incredibly durable material. Solid Surface can take impact from pots and pans, withstand heat, and stand up to wear and tear from years of use. Even if you slide things over the surface of your counter for years to come, treating it with the same disregard that many would treat their tool bench in the garage, your counter will come out looking just fine. Any cracks, chips, or wear that you manage to bring to your Corian countertops can be fixed up with some sanding and a patch made from the same material the counter was built from. When it's all fixed up, it will look good as new.
Don't settle for more breakable, less flexible, and less colorful. Order Solid Surface instead. Give us a call if you have any questions or would like to start the process of ordering your Solid Surface countertop today.