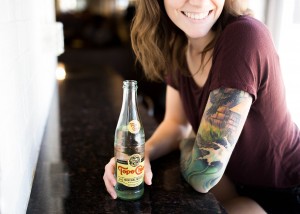 Over the years, it only becomes more and more true that people love sports bars. What's better than gathering with friends for drinks and sports? The answer is: gathering somewhere outside the home so that you aren't responsible for cleanup. Throwing sports parties in your den can be good fun, but it means you're responsible for making the food and cleaning up once everyone leaves. People have wised up and started giving that responsibility to people who are paid for it. Those people just might be you!
If you run a sports bar, you should know that there's always a way to improve your venue and make it more appealing to customers. One such way is by making the interior more visually appealing. Corian is here today to let you in on the best investment you can make for your sports bar. Here's why Solid Surface will improve not only your bar's appearance, but a number of other things too.
What is Solid Surface?
Solid Surface is a material used for counter tops and a number of other things. This fantastic compound is made to carry its design all the way through. That means no matter how much wear a Solid Surface product gets, you won't ruin the design of it. That's what makes it so popular for counters. It's easy to produce in large slabs and can be custom cut and formed to fit any type of counter. Not to mention, if your counter is really long, two pieces can be adhered together absolutely seamlessly.
Visual Boost
As a sports bar, it's your job to stay relevant and attractive to potential customers. Because people of all legal ages love to gather at your venue, you've got to maintain an aesthetic that compliments your bar's purpose and doesn't cater to only one generation.
An easy way to gain that visual boost is by adding a splash of color to your bar. Why not make the splash of color the bar itself? Because Solid Surface comes in a large variety of colors, you're almost guaranteed to find the color of your most popular local sports team. Whether that's orange, blue, or any other color of the rainbow, you can order a counter top filled with it.
Durability Boost
The next benefit to Solid Surface is that it's more functional than the alternatives. Laminate counter tops are prone to breakage. The coating on them will easily snap off after a few years of regular wear. Then you're left with an ugly spot and a counter top that looks like it hasn't seen an update in decades. Solid Surface, being one piece, won't have this problem. Any slight wear on its surface will go practically unseen.
Hygiene Boost
Not only does Solid Surface last longer, it's also easier to keep sanitary. That's a must-have in the food and drink industry. No seams means no places for bacteria to hide and grow. Cleaning up the surface of a Solid Surface counter top is easy.
If you're interested in upgrading your sports bar with a custom counter top that lasts longer, give us a call. We're happy to answer any questions about our product and help you start the ordering process.